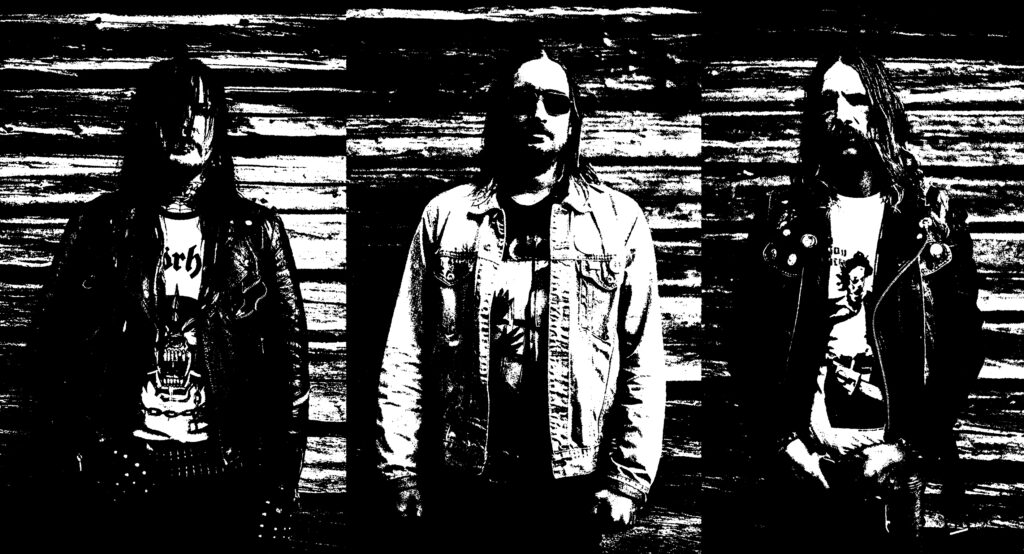 偏執症者 (Paranoid) is a power trio from Frösön/Sweden, formed in 2012. The foundation of their uncompromising DIY-attitude and savagery is in d-beat punk-inspired noise mixed with classic 80s metal. Conjuring a destructive vortex of violently rotating northern winds of head banging chaos and pure hell. However, their adoration for both the Japanese burning spirit and English hardcore/metal is blindingly evident too. All stitched together, this sculptures their own identity.
Emil Bergslid – Drums
Henrik Låsgårdh – Vocals/Guitars
Joakim Staaf-Sylsjö – Bass/Backup vocals
Former members:
Nils Landin – Vocals (2012-2013), Åke Henriksson – Guitars (2012), Johan Landin – Guitars (2012), Anders Åström – Guitars/live  (2022).
Prospects: Motokazu, Gaki/Konton Crasher, Kenko/Communichaos, Andrew Morgan.
Paranoid Northern Discs:
PND001-LP: Destroy Future Less System, 12″ (Reissue 2015)
PND002-LP: Satyagraha, 12″ (2015)
PND03-FLEXI: Punkdemonium Hell, Flexi (2015)
PND04-CASS: Cover Of The Month, Cassette (2015)
PND05-LP: Split w/ Absolut (Reissue 2016)
PND05-CASS (06): Heavy Mental Fuck-Up!  (2018)
PND07-EP: Hardcore Addict, 7″ (Reissue 2019)
PND08-LP: Northern Winds Of Brutal Hell Mangel – Vol 1, 12″ (2019)
PND09-LP: Northern Winds Of Brutal Hell Mangel – Vol 2, 12″ (2019)
PND10-FLEXI: Kaos, Flexi (2019)
PND11-EP: Split w/ Sex Dwarf, 7″ (2019)
PND12-EP: Kind Of Noise, 7″ (2019)
PND13-MAXI: Out Raising Hell – Outtakes, Maxi 12″ (2020)
PND14-LP: Out Raising Hell, 12″ (2020)
PND15-DIGI: Cursed (2021)
PND15-LP: Cursed (2022)
PND16-EP: Tatari (2022)
PND17-LP: The Singles Collection 2014-2019 (2022)
PND18-DIGI: Kill the Light (2022)
PND19-DIGI: Vanished Resilience (2022)
PND20-DIGI: Possessed (2022)
PND21-DIGI: Tba (2022)
PND22-TBA: Tba (2023)