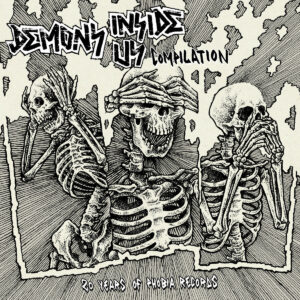 Friday freakout! We've uploaded an old song, new for some, titled "悪魔は生き続ける (Akumu wa ikitsuzukeru)". This song was recorded back in 2015 and was intended as our unreleased contribution for Brain Solvent Propaganda's "Crack your brain up" compilation LP. Unfortunately, it never got released. This version was mixed and mastered at Noise Room by Shigenori Kobayashi, and we had our great friend and partner in crime Motokaaos helping us out with some back-up vocals.
Now the song gets a second chance as it appears on Phobia's 20th anniversary comp. "Demons Inside Us". We only noticed this week that it has already been released, so we decided to also release it officially via our bandcamp. 
The alternate and extended music video version which have been on YouTube since 2016 is mixed and mastered at Communichaos Media by Kenko.