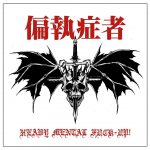 US regular press out at last!
Why this delay? Well, the main reason is that KONTON CRASHER, in agreement with us, made a completely new press in US using a new matrix.
There's a reason why we didn't approve no less than two test presses of "Heavy Mental Fuck-Up!" and had to compromise on our own beliefs in the end for the European version.
To anyone who has not yet been able to get a copy, here's your chance.
Order here: kontoncrasher.storenvy.com
Pressing info: kontoncrasher.blogspot.com
Wholesale: kidcharge84@gmail.com