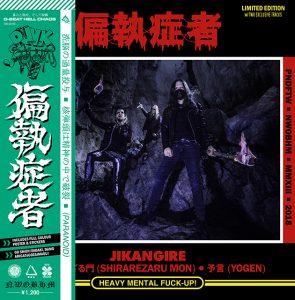 We're excited to finally having the 3 track 12″ Maxi single "JIKANGIRE" released today!
The title track Jikangire is taken from our upcoming full-length album "Heavy Mental Fuck-Up!" (which will be released later this fall). What separates this release and the album is that the Maxi is both mixed And masterd by Kenko/Communichaos and have a minor rawer atmosphere in comparison. On the flip-side you also find two unreleased tracks, not available elsewhere. Limited to 500 copies (all on black vinyl in discobag).
Released by The Sign Records (EUR) and Konton Crasher (US). Get in touch with the labels or grab a copy from our SHOP. All paid pre-orders will be shipped today. Kanpai!