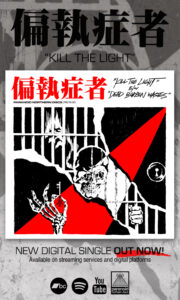 Die Hards! Let us introduce our latest creation and release; "KILL THE LIGHT", a 2-track digital single. Out now and available via most streaming services and digital platforms as of today Wed. March 30th, 2022. Paranoid Northern Discs (PND18-DIGI).
Recorded in Studio Mangel, Frösön, February 2022. Produced and engineered by Jocke D-takt. Mixed by Daniel Mikaelsson and mastered by Roger Bergsten at Nevo Studios. Guest vocals on "Dead Barren Wastes" by Nox. Cover artwork by Joe BB. Eternal gratitude to all involved!
The plan is to release a digital single series this year, mainly in connection with the celebration of our 10th anniversary but also as a counter-reaction due to the insane demand in vinyl and a minimum of 8-10 months turnaround time, as we speak. There are many benefits to releasing and distributing your music digitally, which we gained experience with the release of our forth album "Cursed". We like the aspect of recording, releasing and moving on to the next project within a month without having to elaborate and analyze the smallest detail during the process. It makes these songs and this project more inspiring, liberating and spontaneous. But also up to date. The digital world feels flat and impersonal, we share your opinion, and we certainly don't close the doors to a possible vinyl release in the future.
Play loud!