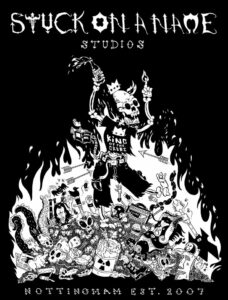 Really excited to be a part of this massive "STUCK ON A NAME" benefit compilation. With no less than 57 bands(!). We did and recorded a new song called 'Out Raising Hell' exclusively and for this purpose only. We also finally got the chance to use a catchy guitar melody/riff that Jocke had wanted to do for a long time. Total support for the DIY-scene and movement! Read short information about the comp below.
"With the return of bandcamp Friday we are delighted to announce the release of the Save Our SOAN digital compilation at 8am on Friday 5th February! Head over to our bandcamp to buy this 57 track (most rare or exclusives) behemoth showcasing music from friends of the studio near and far. And for the analogue junkies among us, a tape collecting 27 of those tracks will be available for pre-order (the tape will be available to order until the end of February with an ETA early March)."

SOAN: gofundme, Bandcamp, Facebook, Instagram.