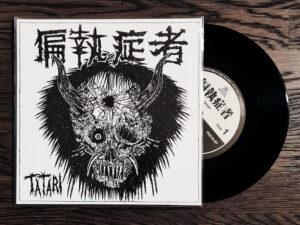 We fully understand if there are confusions around the vinyl 7″ edition of the TATARI EP (PND16-EP). So we'll try to sort it out and explain everything once and for all.
On May 7, 2021, we released our fourth album "CURSED". Due to the countless setbacks and delays that occurred during the process and the release of the previous album "OUT RAISING HELL", we made the decision that we would try out something completely different with the next release. A new approach to challenge ourselves but mainly to keep it simple, by using as few middlemen and involved as possible in order to reduce any problems that may arise. Cut down on all the hassle in short. Get the final master one day and then release the album just the day after. This is the simplified background to why "Cursed" was only released digitally and not on vinyl.
The first 250 who purchased "Cursed" via our Bandcamp got "Tatari" included as a free bonus. Which we also stated on our website and in our social media. We had a document with 250 blank lines that we filled in with names and email addresses in turn as someone downloaded the album. On June 11, that list was full and all vinyl 7″ was gone. This edition is limited to 250 hand-numbered copies on black vinyl and is not for sale. At the end of October we approved the test presses and last Friday we finally got the record. The pressing plant recommended us to order extra copies as they couldn't guarantee an edition of exactly 250 as we required cause it can differ by 10% up or down. Therefore, we have a box with a bunch of leftover records, in addition to the 250, which we haven't yet really decided what to do with.
Both the album and the EP are taken from the same recording session and you'll also find them both via most streaming services.
Recorded in Studio Mangel, Frösön/Sweden, April-May 2021. Produced and engineered by Jocke D-takt. The drums were recorded by Johan Arveli at Studio 306. Mixed and mastered by Kenko at Communichoas Media Clay Station. Cover artwork by Bharata Danu. Many thanks to Toda for the help and contact with the pressing plant.
Everyone who's entitled to a 7″ can expect a delivery soon because all packages are already packed and shipped.
Read parts of the release info and statement from May 2021 below:
Self digital release 'Paranoid Northern Discs' (PND15-DIGI). Stream or buy the full album via our Bandcamp. Many thanks in advance to all of you who actually buy the album, and other releases, today on Bandcamp-Friday, as the artists get 100%. Cheers for supporting us and the DIY underground movement. Everyone who buys the record digitally will receive a free bonus 7″ EP entitled 'Tatari' (worldwide shipping included). It's limited to 250 copies on black vinyl, and you won't be able to buy this vinyl elsewhere. We have no plans for a physical release of 'Cursed' at the moment.
Or in full HERE!