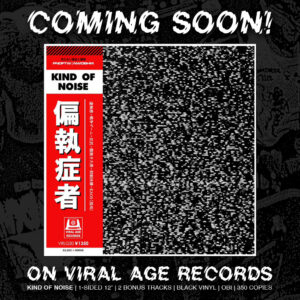 For further info: Viral Age Records.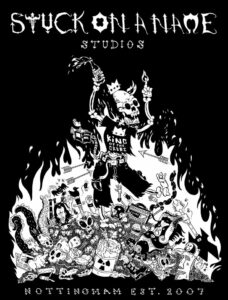 Really excited to be a part of this massive "STUCK ON A NAME" benefit compilation. With no less than 57 bands(!). We did and recorded a new song called 'Out Raising Hell' exclusively and for this purpose only. We also finally got the chance to use a catchy guitar melody/riff that Jocke had wanted to do for a long time. Total support for the DIY-scene and movement! Read short information about the comp below.
"With the return of bandcamp Friday we are delighted to announce the release of the Save Our SOAN digital compilation at 8am on Friday 5th February! Head over to our bandcamp to buy this 57 track (most rare or exclusives) behemoth showcasing music from friends of the studio near and far. And for the analogue junkies among us, a tape collecting 27 of those tracks will be available for pre-order (the tape will be available to order until the end of February with an ETA early March)."

SOAN: gofundme, Bandcamp, Facebook, Instagram.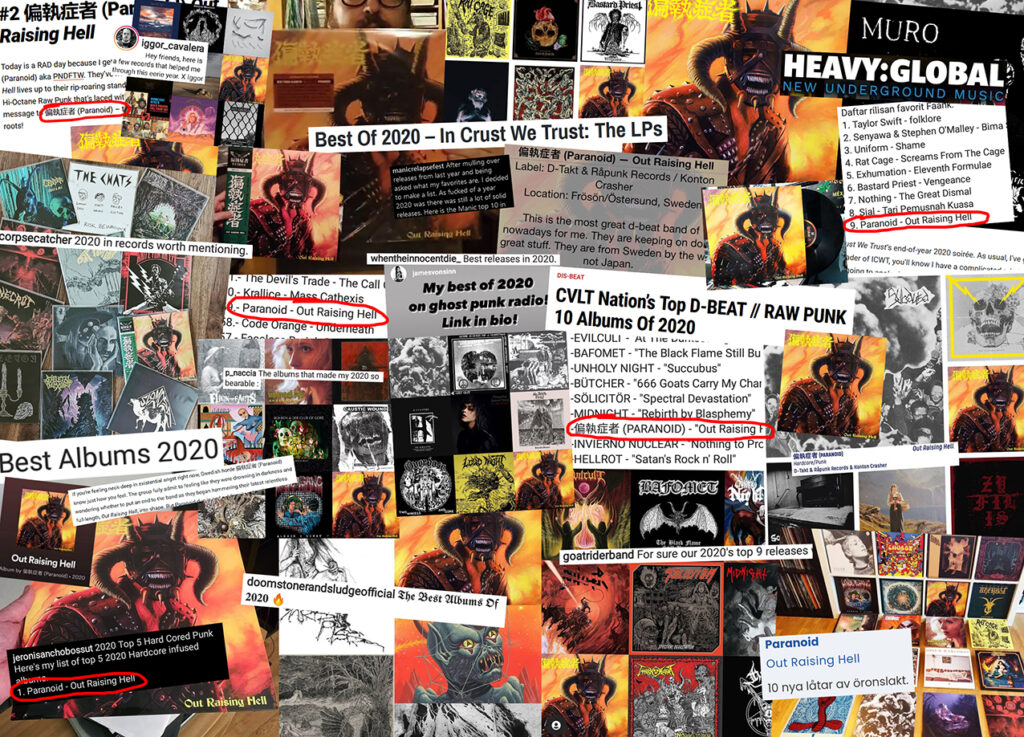 We're thrilled and truly honored to see "Out Raising Hell" on so many 'Best albums of 2020' lists, next to some of our favorite bands and releases from last year. In case you missed out and not already got yourself a copy. Last call! We're down to the last +30 copies, with no plans for another repress. The "Out Raising Hell – Outtakes", Maxi 12″ is basically sold out as well. No sweat, all of our releases are available to stream via our Bandcamp and Spotify. Thanks for the support!
Cheers to Konton Crasher, Joel Grind, Jack Control, Anton Atanasov, On Fire Designs and the pre-listening panel for your work, efforts and sacrifices in the making of this release. Shout out to Crash The Pose for providing us with killer merch in connection with the release.
"With a gritty but pleasingly clear sound allowing all of the different aspects at play here to shine through, the darkness and brutality comes with a genuine threat but also the willingness to surprise by building grooves and hooks"
– Sea Of Tranquility, Steven Reid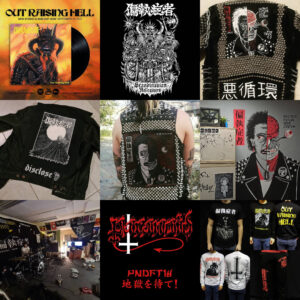 2020 will go down in history as a black hole to avoid. A worldwide meltdown with no loud and intense gigs in sight. This situation is slowly killing us all from within. We released at least a new album and the response has by far exceeded our expectations. The whole process of "Out Raising Hell" was really exhausting and took a lot from all three of us. That's why we're thrilled and grateful to see how the fire has spread. Makes the blood, sweat and tears worthwhile. Great thanks to all of you heavy mental rock'n roll freaks out there who are still with us after all these years, and obviously everyone else who also supports what we do. Kanpai!
We already have material for a new album written and we aim to start recording during the first half of the upcoming year. Like all other bands, we truly miss playing live and touring. We dare not hope for too much, and rather not make any plans just yet, but really wish to hit the road again soon. 2021, bring it on!
"10 all-killer-no-filler numre på 37 minutter = 100% punkmetal perfektion og sonisk orgasme galore!"
– Devilution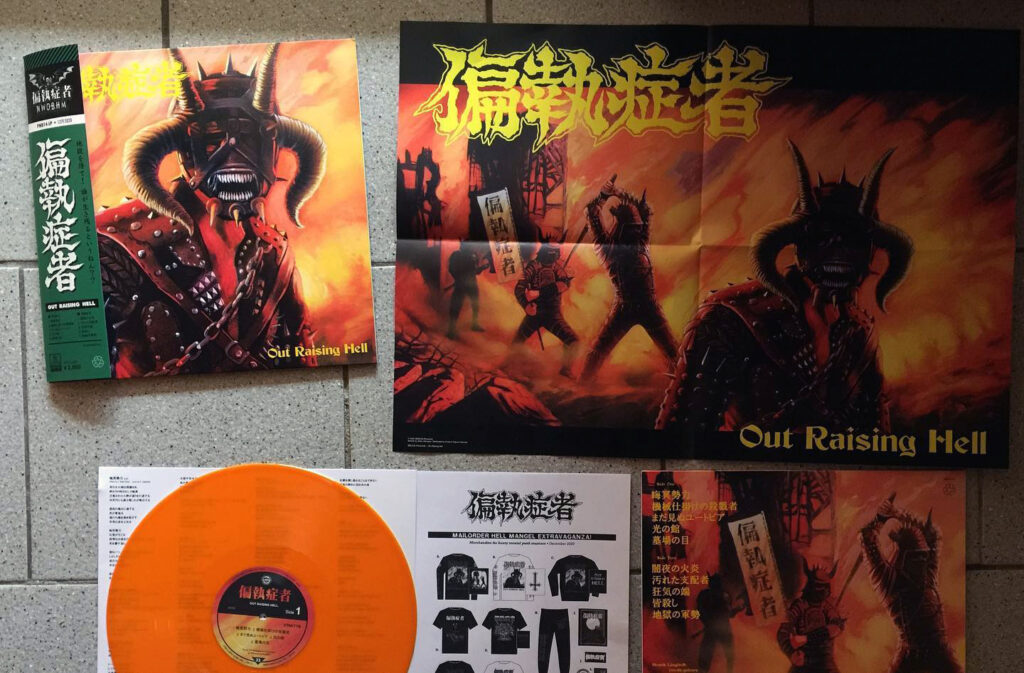 These record stores and distros carry 'OUT RAISING HELL':
* Urinal Vinyl Records (UK)
* Revenge Records (Japan)
* Viral Age Records (UK)
* Record Shop Base (Japan)
* Chainsaw Distro (Greece)
* Phobia Records (Czech Republic)
* Mundo En Kaos Records (USA)
* Scream Records (Poland)
* Godzilla Records (UK)
* Ruido Total Discos (France)
* Blitz Records (UK)
* Trujaca Fala Records (Poland)
* Mephisto (Denmark)
* Noise Of Hell (Spain)
* Sound Pollution (Sweden)
Look em up, snag a copy, treat yourself and support your local scene. Win win.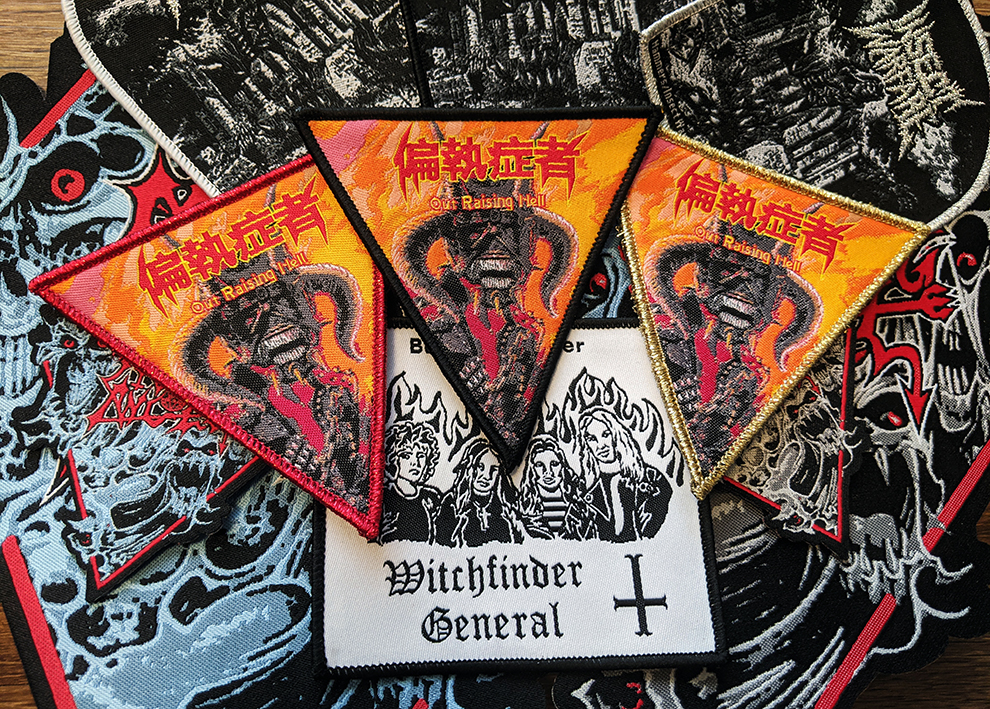 Holy hell, just check out this new Armed With Hammers Prod. woven patch release. Comes with red, black or gold border. Only available via: awhp.bigcartel.com/products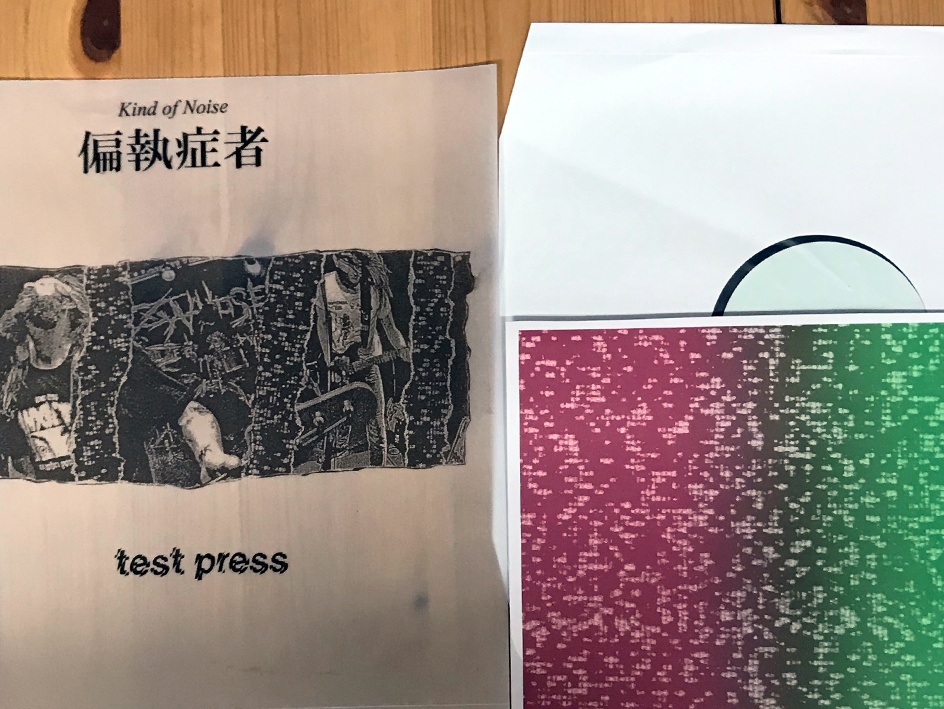 "Test presses have arrived and sound sick".
– Andy/Viral Age
A one-sided 12″ version of the 'Kind Of Noise' 7″ with the 2 tracks featuring Moto, from the same recording session, which was originally released exclusively as a flexi with the NWOBHM bundle. We only printed 250 copies of the 7″ (same for the bundle) and it sold out right away. People have been asking for it ever since, but there has also been a request to get the songs from the flexi on vinyl. We decided to kill two birds with one stone, so to speak. Out early 2021 on Viral Age Records.
"Say you hate Washington's birthday or Thanksgiving, and nobody cares. But say you hate Christmas and everybody makes you feel like you're a leper or something."