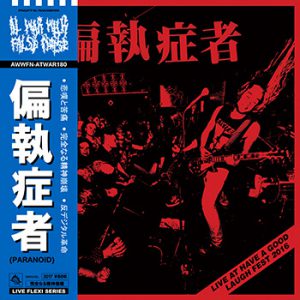 "This 7″ sees them firing through three tracks rapid, and it is RAW. If you want a well-recorded hifi experience, go to another label pal, that's not what I'm all about! The sound of this record perfectly captures the absolute untethered violence and caustic rage of a Paranoid gig: feedback, spit, ripping vocals, savage riffs rising from the cacophony. Fucking brilliant punk rock, nuff said. 250 copies, pro foldover sleeve and OBI strip, blue flexi".
– At War With False Noise
We got a few copies back in stock. 55sek + postage. Be late or be sorry!
AWWFN still have the flexi in stock as well (click link above), but they are running low. By buying direct from the label you're supporting and helping them in the war against false noise. Cheers!
UPDATE: We have no flexis left! Get in touch with 'At war with false noise' (atwarwithfalsenoise.com) if you are interested in a copy.