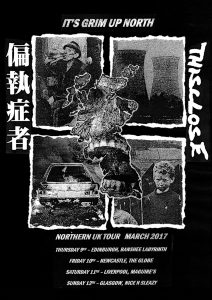 Northern UK die hards!
We are heading off round the north of the UK with our Scottish comrades Thisclose in four weeks time – Get ready.
9/3 – Edinburgh
10/3 – Newcastle
11/3 – Liverpool
12/3 – Glasgow
Tour flyer by Andy Morgan/Viral Age Records. There will be tour shirts (www.thisclose86.bandcamp.com/merch/its-grim-up-north-paranoid-thisclose-2017-tour-shirt) and a limited edition of screen printed posters. Maybe we'll bring a few more surprises.
Can't wait to hit the roads again. See you in the pit you punks!