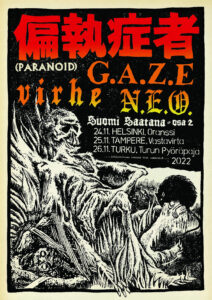 Teaming up with G.A.Z.E., Virhe and N.E.O. for three joint shows in Finland at the end of November. Brought to you in conspiracy with the international (noise) punk community. More info and events to follow. Tour poster by Jallu.
24/11 Helsinki / Oranssi
25/11 Tampere / Vastavirta
26/11 Turku / Turun Pyöräpaja
"Paholainen saapuu Etelä-Suomeen marraskuun lopussa, neljään bändiin ruumiillistuneena. Jävla mycket av melusaaste. Saatana aaargh!
Paranoid on lähettänyt kihiseviä ääniaaltojaan pienestä keski-ruotsalaisesta Frösönin kylästä jo kymmenen vuoden ajan. Hardcorepunk-trion viides visiitti suomeen tulee tarjoilemaan kattavan läpileikkauksen 10-vuotiselta taipaleelta tuskan ja kurjuuden mielenmaisemissa!"