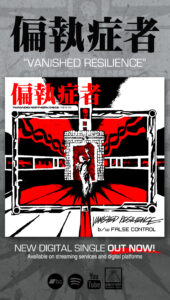 Hellbangers! The second 2-track digital single "VANISHED RESILIENCE" is out now. Available via most streaming services and digital platforms as of today June 15, 2022. Paranoid Northern Discs (PND19-DIGI).
Recorded in Studio Mangel, Frösön, April-May 2022. Produced and engineered by Jocke D-takt. Mixed by Daniel Mikaelsson and mastered by Roger Bergsten at Nevo Studios.
Guest vocals and lead guitars on "False Control" by Danny Sano and Ben Rabey (Crêam Söda). Recorded in Australia. Cover artwork by Joe BB. Eternal gratitude to all involved! Special thanks to Danny and Ben who saved the day and managed to record their guest appearances at just a few days short notice. Kudos!